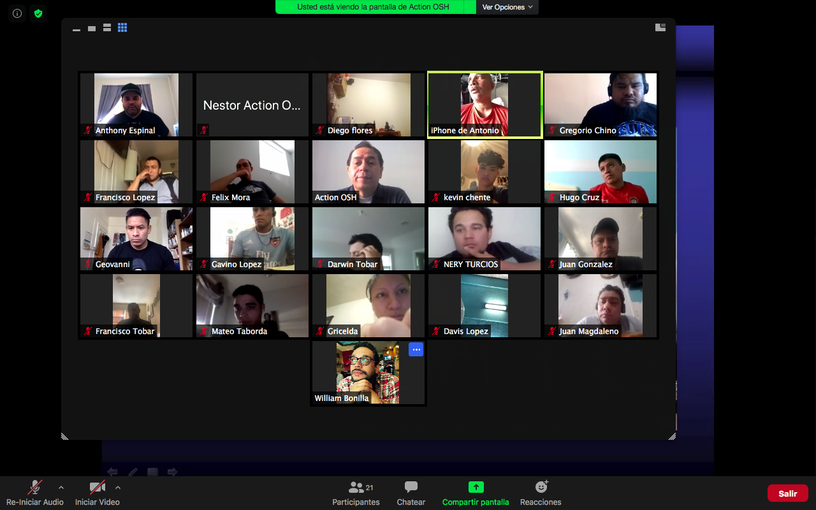 El recién pasado domingo 7 de junio, finalizamos otra clase de OSHA 30-H, la ual se desarrolló de manera dinámica y participativa. Agradecemos a quienes participaron por su preferencia y reciban nuestras felicitaciones por el logro alcanzado. Algunos comentarios realizados por cada participante son los siguientes:
"Muchas gracias por el curso a todos los instructores sus temas fueron de mucha ayuda y fácil entender. Bendiciones".

"Los temas que se trataron my buenos, la forma de expresarse y llevar la clase por parte de los entrenadores excelente, tomamos conciencia acerca de los derechos que tenemos como trabajadores y de los peligros de los cuales no debemos dejar pasar, solo como estudiantes debemos disponer nuestro tiempo para poder captar todo de una buena manera. Muchas gracias por el curso. Lo recomiendo. Bendiciones."

"Me gustó como imparten las clases. Muchas gracias".

"La clase es muy agradable. Aplicaré la gran parte de los conocimientos."
Just last Sunday, June 7th, we finished another OSHA 30-H class, which was developed in a dynamic and participatory way. We thank those who participated for their preference and receive our congratulations on the achievement. Some comments made by each participant are the following:
"Thank you very much for the course to all the trainers. Your topics were very helpful and easy to understand. Blessings."

"The topics that were covered my good, the way of expressing and leading the class by the excellent trainers, we are aware of the rights we have as workers and the dangers that we should not let pass, only as students should we Arrange our time to capture everything in a good way. Thank you very much for the course. I recommend it. Blessings. "

"I liked how they teach the classes. Thank you very much."

"The class is very enjoyable. I will apply much of the knowledge."