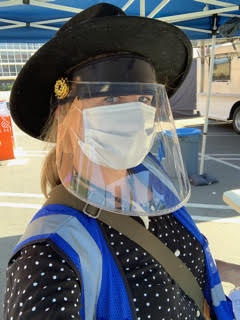 As a producer and health safety specialist for commercials and music videos, I get A LOT of calls asking: What are the current union and government mandates, regulations and rules on set regarding testing, PPE and Covid Compliance Officers (more commonly known as CCO's)? These questions and requirements are critical because in addition to keeping people safe, it impacts how much projects "have" to budget or spend and how COVID expenses continue to affect the bottom line.

Interestingly enough, what hasn't changed are the best practices to keep crews safe -- so my advice remains the same.

All told, we need to continue to do what we know works to keep our crews safe -- this will keep our productions running smoothly and ensure that the production company and brand have minimal COVID-related issues that will impact the project. By now we know how those kinds of issues will ultimately cost them more due to pushed schedules, lost time and replacing vital key crew members.

As regulation changes and everyone scrambles to keep up, it is important to ask ourselves: What successful strategies have proven to work up to this point?

For the sake of this reflection, let's keep vaccines and variants out of the equation at the moment, considering all of the variables and unknowns of this unclear future. One thing is for certain, the outbreaks of these variants mean a higher risk of exposure to vaccinated and unvaccinated people alike.

TESTING, TESTING, TESTING

Testing has helped us create a gate that helps us keep asymptomatic people from potentially spreading COVID-19 on set. It has worked and will continue to work. We know it's not perfect, which is why we must also incorporate other levels of control mentioned below.

HOLY HYGIENE

We know wearing masks helps us all keep our germs to ourselves. Whether we like it or not, the different respiratory protection we use helps protect us primarily from contaminated droplets and aerosols -- the highest risk means of transmission -- especially when indoors or when close to or speaking with another person.

Appropriate hand washing (minimum of 20 seconds using soap and water) cleans away dirt, bacteria, viral germs and bodily fluids or dead skin that can spread the virus from one person to another. By continuing to do this, we can control contact transmission, not to mention just generally being cleaner.

Now let's talk about cleaning: I remember when this all started and we looked at the tables and chairs we use for every department and realized most had not been cleaned for their entire life of use. I mean, they were gross! Having someone clean and sanitize the bathrooms is amazing! Offering places to wash your hands when your moving equipment and working all day is a blessing!

I hear so many people say that these practices will end as soon as this passes and I sure hope not; these are the sort of  things I hope stick around for a long time after this pandemic, especially the attention to cleanliness. One essential point we must remember is the importance of good protocol when it comes to cleaning and disinfecting. Production and CCO teams must make sure that it is being done correctly in order to truly kill viruses (ie, contact time on the surface), following the instructions of materials and equipment you are using. Remember, OSHA is serious when it comes to their Hazard Communication Standard that requires documentation and training wherever a worker is using hazardous chemicals.

ENGINEERING & ADMINISTRATIVE CONTROLS

If you have trained with us before, you are very familiar with the hierarchy of hazard controls; for those who are unfamiliar, it is really critical to understand that not all controls are made the same. Eliminating the hazard is the safest option, though not always possible; this is where employers should use engineering and administrative controls before only relying on PPE.

Some tips:
Ventilation and air flow are at the top of the list; this is a hazard control that works!
Reduce capacity and use proper zone regulation to only allow the necessary folks on set when and as needed; this has helped a lot to improve social distancing. We used to crowd together and stand around waiting to see what needed to be done next. Now we communicate better and prepare for what comes next more meticulously in schedules and on deck type set ups. Ultimately, it resembles the "stay out of the talent's eye-line" type work environment that was more common on sets in the past.
Keep informed and aware of patterns of density and rising cases of illness or outbreaks in the area that you are working.
Have proper turn-around for crews to get rest and avoid other illnesses that compound the situation. Think how heat stroke, dehydration and flu also have similar symptoms that can seem like COVID. This causes additional stress on the project, the individual, their close contacts, etc for an extended period of time.
Responsible communication and trust is key. If you have symptoms, you absolutely must be forthcoming with your employer, friends and close relatives who could be affected.
Honestly and respectfully abide by quarantine or isolation measures when you have tested positive or come into contact with someone who has tested positive; this is important for all of us. Consideration and sick pay for crew if they or one of their own family members get sick is fundamental to make this possible.

#StaySafeonSet #BestPractices #EntertainmentIndustry #ActionOSH #OSHA10forEntertainment